MeMA-Music is built upon the principle that high-quality arts-integrated education programs can improve student engagement and daily attendance, lift student voices, strengthen cultural identity, improve trauma, and foster a shared vision for societal change while increasing academic achievement.
Our collaborative role supports teachers in delivering high-quality arts-integrated residencies and in-school workshops that provide equitable educational opportunities to increase student engagement, support social and emotional learning and activate critical thinking and problem-solving skills. We work with teachers to establish clear instructional goals and outcomes tailored to each school's needs and align with Standards.
Our programs for middle and high school students supplement and enrich classroom lessons allowing students to make meaningful connections between subject areas that connect to prior knowledge and make their learning relevant to their lives. Residencies are custom designed to fit each school's needs and meet state and Common Core standards.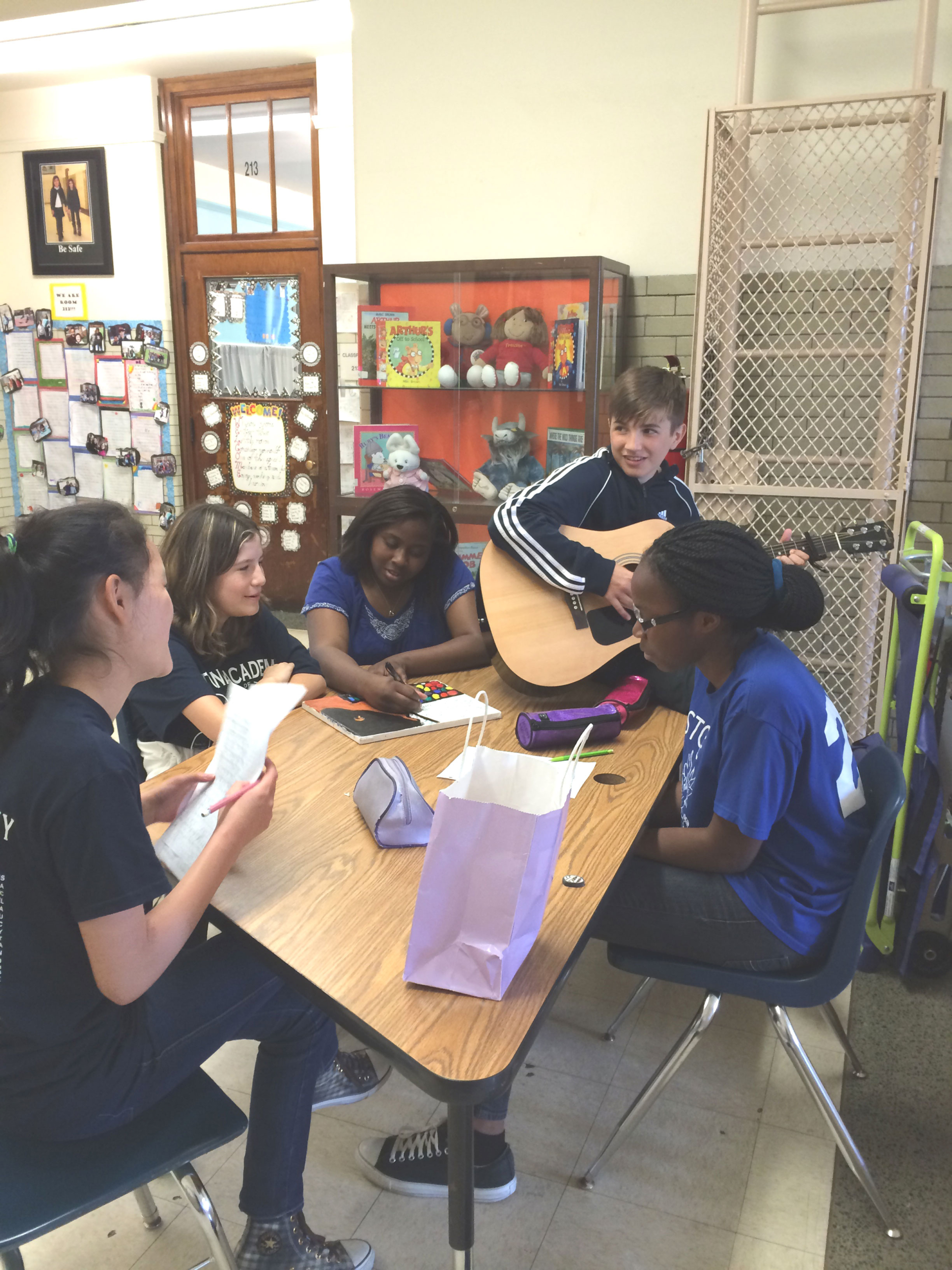 We offer customizable lessons that focus on student-centered activities. We provide various resources such as music, videos, rubrics, graphic organizers, worksheets, handouts, and assessments. All we need is a classroom for us to operate.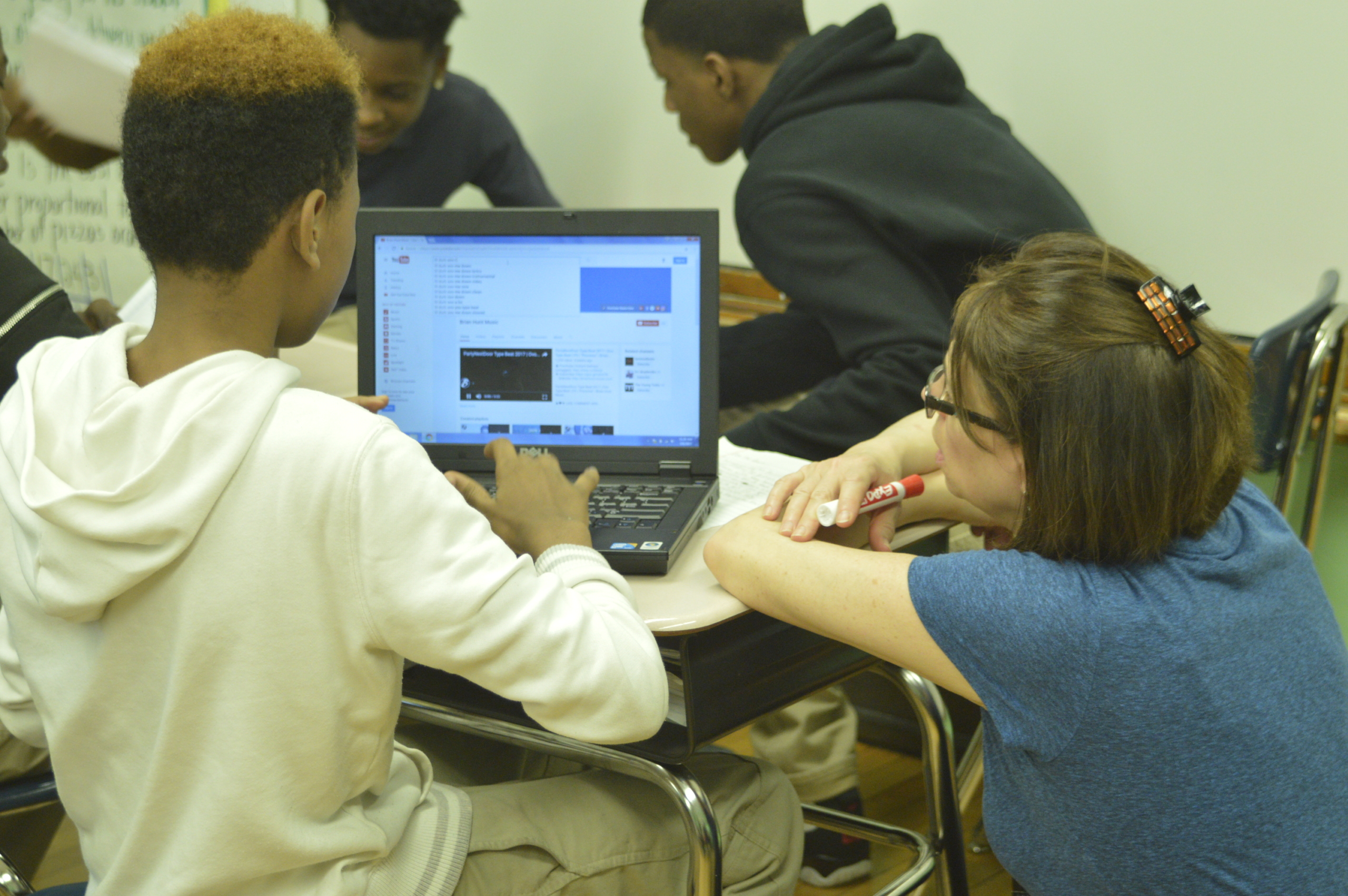 Established standards in social sciences, English language arts, music, media arts, technology, civics, and social-emotional learning are the foundation for our arts-integrated residencies. Students take with them enduring understandings of what it takes to create a compelling message that can make a change, whether in music or other media. Students need to identify different media types and understand the messages being sent. What they learn in MeMA goes beyond memorizing what happened when or who composed which song; it is about how everything they learn supports their development of real-life learning that will endure beyond the classroom and help them succeed.
At the end of our programs, we proudly present a dynamic culminating event that showcases the impressive social justice projects crafted by the students of our partner school. These projects are the direct result of extensive research and the application of skills and knowledge acquired throughout the program. The final projects incorporate various artistic expressions, including technology and digital media, creative writing, visual artwork, songwriting, and performance.
MeMA-Music provides professional music, technology, art, and video production mentors to help students with their projects. Additionally, songwriters from the community share their experiences and knowledge with students.
Thanks again for having us at your last period class. I really enjoyed being an 8th grader in your program. I am positive that the 8th graders will be excited when they start their own projects. I can't thank you nor stress enough how helpful this class has been in my first year in high school. While all the other freshman were having trouble understanding the new open discussions we were having in class and making connections to real life events, I was already a pro!!!
My favorite part of this program was that it helped me more understand society and we have to make more of a difference in certain topics. I learned new things in my topic that I didn't know before and learned new things in everyone else's.
What I found helpful was that before we began the project we were exposed to different social injustices and encouraged to find some of our own. This truly made things easy because this make things personal. I see the MeMA project as a chance to say something that is worth something
The most important part of mema was learning about what other cultures went through. Not just learning about history, but giving us more detail about things we normally wouldn't talk about in class. The most interesting part for me was when we learned about President Nixon and he lied about the Vietnam War.
When we watch videos about social justice, I learn that in the past it was a hard time, I didn't know that black and white are not together and they have to go to separated school
Before I started this program all I knew about civil rights movement was the basics, like white & black being separated, and who MLK was. But the program told us stories I didn't know. For example, I didn't know that blacks were beaten up in a white restaurant if they ate there. Overall, I've noticed a change in myself. This year I'm planning on attending marches. I want to go to pride fest to show my support
I loved hearing my students with diverse learning needs singing lyrics to songs that were popular decades before they were born, and understand why those songs are relevant today.
MeMA is a particular draw to kids because of the music, and freedom that allows them to be creative; they can express their own viewpoints, they can research history to find out why things have happened over time and what changes have come about in society.  I love seeing all the different projects and what students are able to create, and I can really see the growth in them and what interests are going to lead them for the future.
The MeMA-Music Program at Langford was awesome! The program raised our students' consciousness regarding social justice issues and afforded them the opportunity to use music to impact their lives and to have their voices heard.
The program just keeps getting better! As last time, the students' projects were amazing. But now, the breadth of topics addressed, the varied formats used, the honesty, the creativity—nothing short of remarkable. I'm so impressed by how well the curriculum helps students experience– not just learn– history, how it fosters critical thinking and analysis, respects their individuality, and encourages creative expression.
Charlie has been very interested in current events this year, and now we see why.  He has grown so much in a social awareness kind of way, that we want to thank you for what you have helped to develop.  It is projects like yours that help students express their complex thoughts and intimate concerns.  To share those feelings with their classmates is so incredibly healthy, it was a joy to witness.  They don't know it yet, but their new found awareness, and the ability to share their feelings with others, will be assets to them in the years to come. Thank you MeMA-Music for your vision and your creative spirit.  And, for shining a beautiful light on our little bundles of joy.
Thank you, for the work you do with the kids, trying to make this world a better place, song by song, young person by young person. Music has the ability to get to–and move our hearts and souls. Deciphering & analyzing the lyrics that go to those notes and rhythms and developing young students' critical thinking skills are invaluable tools you are passing along to these young people.